I've experienced the feast and famine, the waxing and waning, of audiences and art sales in my time working at Deborah Colton Gallery. Now, in my position working with the gallery more remotely and solely on this archival project, I can observe more clearly the public's nuanced response to the gallery's program and more broadly what role a commercial art gallery can have in the life of an artist and in an artistic community. I am observing that this gallery has strategically planned a program of exhibitions which operates as a mechanism for community outreach and philanthropic fundraising. This program also supports the advancement of the careers of the artists it represents – even posthumously – hence this archival endeavor.
What cannot be planned, however strategically, ambitiously, or cleverly, is the synergy and the serendipity that come into play unexpectedly, surprisingly, and in ways that seem to encourage one along – like a little memo of positive reinforcement from the universe that tells you you're on the right track and that if you persist, you will certainly reap some benefit.
Last week I was reviewing images from color slides of Suzanne's that I have scanned and came across one image, that somehow I had missed before, which struck me and connected what's happening in Deborah Colton Gallery's program of exhibitions with questions I've had in-mind while working on this project.

Here it is – Suzanne Paul's capture of Dorothy Hood.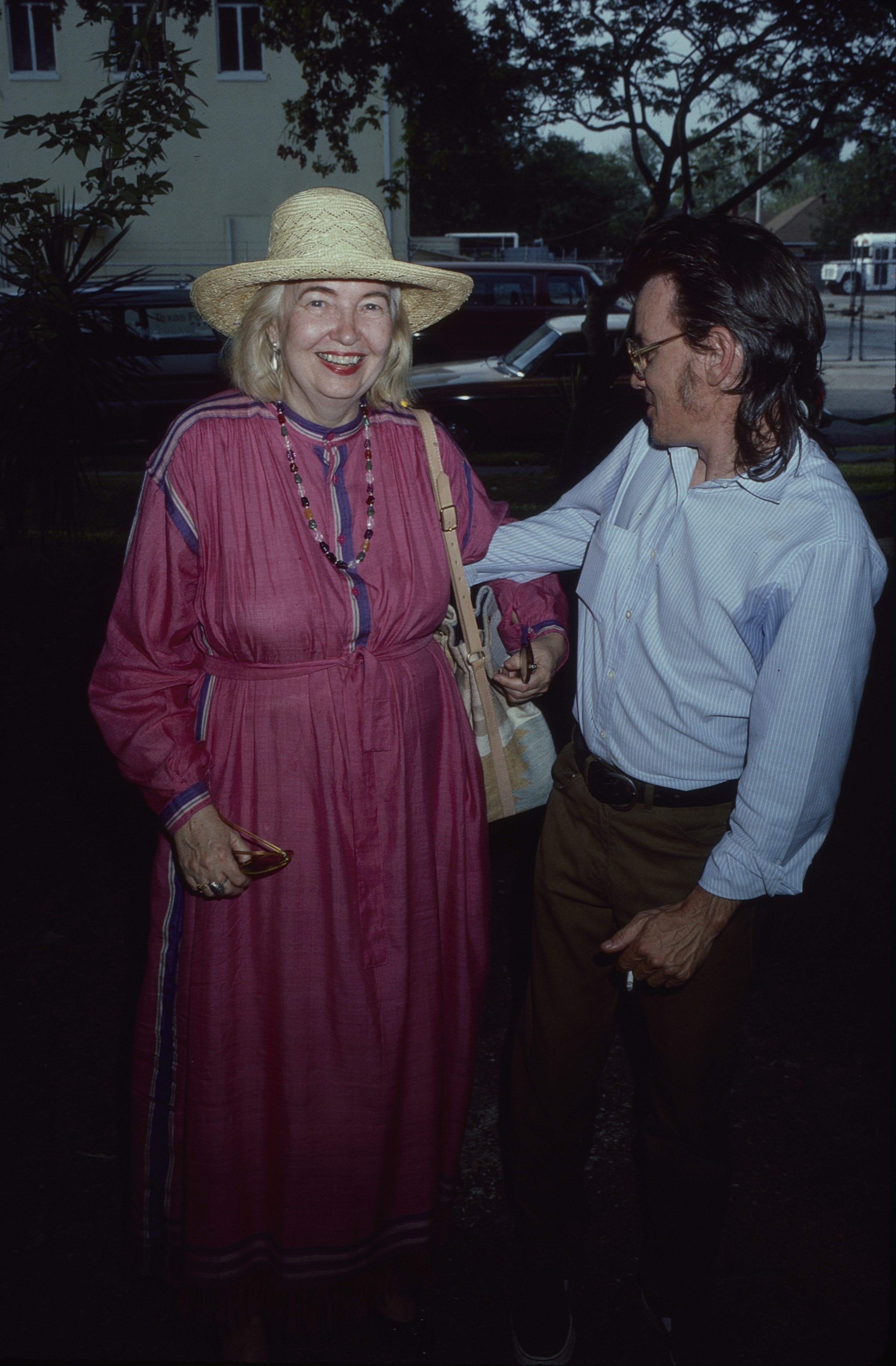 The readership may or may not know that Dorothy Hood is riding a wave of momentum at the moment. A full-scale retrospective of her work just closed at the Art Museum of South Texas, and not accidentally, a solo presentation of select paintings by Dorothy Hood at Deborah Colton Gallery has just been extended through February. A wonderful monograph has been published, in an almost sold-out limited edition, to coincide with the museum exhibition— both presentations entitled "The Color of Being / El Color de Ser."
As one of the early Texas abstract artists, and one of the few female artists working in large-scale throughout the decades, Dorothy Hood led an adventurous life. Born in Bryan, Texas in 1918 and raised in Houston, she won a scholarship to the Rhode Island School of Design and went on to study at the Art Students League in New York. On a whim, she drove a roadster to Mexico City with friends in 1941 for a two week tour and ended up staying for almost twenty years. Hood was front and center in the cultural, political, and social activity of Mexico and Latin America during a period of intense creative ferment. She developed close friendships with all the European exiles, Latin American surrealists, and Mexican social realists of the time — artists, composers, poets, playwrights, and revolutionary writers which influenced her art. In 1945, she married the famous Bolivian composer José María Velasco Maidana and they traveled the world.
It was upon returning to Houston in 1961, however, that Hood produced the epic paintings that evoked the limitless skies and psychic voids of space, years ahead of NASA images. Over the next four decades, she became a renowned and highly collected Texas painter whose works were spread across the United States. Her works are included in over 30 major museums throughout the United States, as well as the collections of many individuals, corporations and foundations. Upon Hood's death from cancer in 2000, a major portion of the artist's estate, including 1,017 works of art as well as her archives and studio contents, was acquired by the Art Museum of South Texas.
The experience of Hood's work in person is breathtaking— emotive, and there's a deeply felt hum of spirituality and wisdom in her work. I remember visiting the museum exhibition and wondering if Suzanne Paul had known her – if they were indeed contemporaries – or if they had even ever met.
Both artists seem to be to be very intuitive women – spiritual, forward thinking, ahead of their time.
Suzanne's portraits dig deep into the person being photographed, so that the sitter's essence – some quality beyond personality – is made known to the viewer. Dorothy's paintings dig into the audience – so that some essence of the viewer is pulled forth and met with the power of her paintings. In either case – the magic happens at the moment of experience – in the interaction between objects of art and active viewing.
Earlier research into the archive at the Contemporary Arts Museum Houston confirmed that Dorothy and Suzanne were indeed contemporaries – they were both featured artists in the CAMH's 1979 exhibition FIRE!, curated by James Surls, and in the museum's 1982/1983 exhibition IN OUR TIME: HOUSTON'S CONTEMPORARY ARTS MUSEUM 1948–1982.
The images above confirms for me that Dorothy and Suzanne did indeed know each other, and also suggests to me that Dorothy was more with-it – more accessible and more closely engaged with the artistic community in Houston— than I might have initially assumed. Here we see her bright and shining, in colorful garb, smiling and warmly received with deference.
This is perhaps not a groundbreaking image, but it does well to reinforce, in yet another instance, how relevant Suzanne's collection of photography is and what a wonderful resource her photographs provide for those minds which do inquire…
We must give thanks to Dorothy Hood, for that her dedicated and supportive audience and collectorship, in visiting her exhibition at Deborah Colton Gallery, in many cases has now been introduced to this special project on Suzanne Paul's photography. We must also celebrate the moments in which a gallery — whose mission is to create a forum for exchange among artists and audience — is able to so enjoy the confluence of strategy and serendipity toward the fulfillment of its mission, so that it can continue to support projects like this one.
***
Content originally published by Theresa Escobedo, here, on 1.20.16