<![CDATA[

In the time that I have spent with her, mostly on projects at Deborah Colton Gallery, I have come to know Sharon Kopriva as a wonderfully easy-going and positive example to follow. Her artwork is sincere and true to her experience. She's engaged in the community in which she is immersed and is especially interested in interfacing with her peers and artist/creatives from the generation succeeding hers. The scope and expression of her artwork has evolved significantly in the same amount of time, however, as with her earlier works, her most recent work maintains the intense energy with which it is imbued by its creator.

I sat down with Sharon in her studio recently to catch her take on Suzanne Paul and her impressions of our arts community.

SK: Here it is! This was taken by Suzy, of Gus and I.
TE: Tell me again about how you came to know Suzy.
SK: Probably just hanging out at Cosmo's Cafe – It's on Heights at Washington. Lucas Johnson was always there. We'd go in there at Suzy would be there. Or, at other places – I joined Lucas for breakfast lot – a lot of mornings. Lucas was so friendly – he just would draw people in.  Suzy was one of them. I think he knew her forever. He told me she was just gorgeous when she was young… but part of that time she was being treated for cancer…

TE: You know, Richard Stout mentioned a morning group – a coffee club – where he and Dick Wray and a few other guys would have coffee in the morning. It's interesting that there's a ritual around being in touch – that there are certain spots around town that were magnets for artists. 
SK: Suzy would go, Lucas… Once a week we'd go to this little Mexican hole-in-the-wall. Dick Wray would head to that one. Richard would be there sometimes. Lucas, always, Loli-Fernandez… sometimes Suzy…
TE: So a rotating cast of artists. It seems like the social interactions did generate some of the creative activity in town. Not unheard of, but good to know who was involved. It seems like a very close-knit group.
SK: Well, Richard Stout is one of the people in the group who was very open. Dick Wray was not… and I never really entered into his circle… but I was there because Lucas invited me – as long as I didn't sit in his seat. Lucas was in every circle – everybody loved Lucas Johson, a man with a big heart.
TE: The thing that I notice looking at this body of work from Suzanne, is that there was these strong social ties and relationships. Did those relationships determine who got what shows, or who showed where and when?
SK: No, I don't think so – but it did work in that we would share news about exhibition opportunities that artists could pursue, or as a way to share happenings. But this was all going on long before I got out of school… I was a latecomer – so I'm not in any of Suzy's earlier photos.
TE: And you later had portraits commissioned by Suzy – these are the images I included in Proof.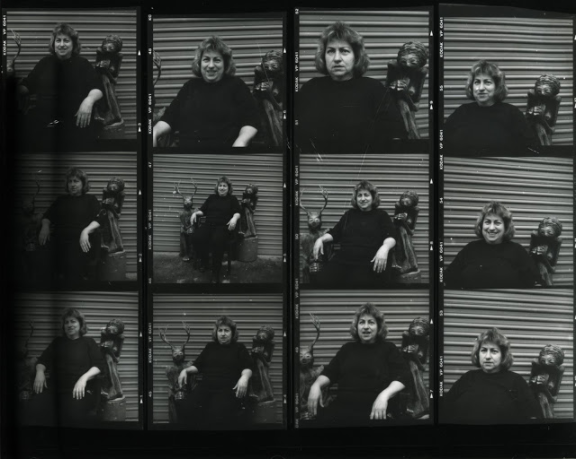 SK: The images in front of the garage door – but I like this one of Gus and I better – the images in front of the garage door are more intense, maybe a combination of both of us or the result of our interacting. Suzy could really catch some good stuff on the fly… but she could also capture a deeper sense of things.

A lot of people knew Suzy a lot better than I did, but I did enjoy the time I did spend with her. I'd say I knew Suzy for a long time – but I didn't really get to know her personally until the times at Cosmo's Cafe. She went there a lot for lunch, and Lucas was always going to be there – at noon. We'd talk about our work, upcoming shows, the news… there'd be a table and other people would come and join it.

TE: What kinds of things would come up?

SK: I think people would talk about their own. It wasn't a place to challenge anyone's work and it affected the work in that these informal meetings provided an open platform to share what you'd be working on. And there was an openness to talking about things…  but I don't have that place anymore. There's no place I know, now, that I can pop into, assured to find another artist I know.

TE: Doesn't seem to happen with my set either. But I can see what you mean about Richard Stout being very open and being an inclusive example to follow as a senior member among artists at the time. We had a lovely chat recently and covered a lot of ground – his work, the light the emotion in it and where that comes from, his contemporaries like Dorothy Hood, who also shares this great emotive experience… 

SK: I look a class from Dorothy at the Museum School – just one. I really wanted to learn from her. She was very nice, but at the same time had this air of superiority – and I was not interested in approaching her to break that bearer. She knew and taught other people like Terrell James — who was also in the class and had taken classes from her for years – that barrier between them was gone there. There were other students too – Ibsen Espada was in the class. I'm very glad I took that class, very appreciative because I learned about things behind the physical paintings, and it made me consider what is behind my own paintings. I knew I was driven, but I began to ask myself what was in my head, behind the drive to create work. She was really good for me.

TE: What did you find there? What did you come to about what drives your own work?

SK: Well, [Dorothy] asked me, 'Are you metaphysical?' And I just blinked, because I had never been asked that before, and she said 'Oh, you're not…" I didn't know. If you are [metaphysical], it's not always necessarily obvious to yourself. It's something that comes from deep within a person. Until that point, I had never really addressed what was deep inside for me.

Later I found a letter that Dorothy wrote – I found it in a drawer at the Art Department – I needed letters of recommendation for grad school and found a note from her that basically said, 'Yes, this woman is talented, but she needs a lot of support,'

I thought it was pretty wonderful, though.

Sometimes I am [metaphysical].

TE: I believe it – I get the sense that your work is its own journey. 


SK: Yes, it's way back in there… it's not superficial in the work… and every artist has this thing that dives them… and some artists never get to the "metaphysical" parts, but I am certain that I did. But when asked, I had no idea how to answer the question cause I had never asked myself. She made me address it.

TE: The images I'm looking at – and the conversations that I'm having – emphasize the social ties that existed, but also indicate that your generation was more comfortable than mine, perhaps, using art making as a method to, experiment, discover, and to direct the community. 

SK: And to gather, too. Something happened. I can almost draw boundaries of time – of eras. When I was in school, James Surls was the gatherer… he'd say "Alright, let's do a show – POW WOW." That was done in 1979, and everyone and anyone could submit a piece to be considered  – works 8 inches by 8 inches in size. Before that, there was a little clique that was much less inclusive. I think they were afraid at first to be all inclusive – maybe that they would loose something. They were the artist that were reviewed, the artists that got the critiques – the 'serious' artists. James Surls blew those walls away and threw it out the window. A few artists, like Lucas Johnson, were included in both of these groups. Suzy, though, was everywhere – at Lawndale with James Surls, in group with Jim Harithas, Marilyn Oshman.

TE: And you would have been around Lawndale at the time – in the thick of it – as a grad student.  From there, what are career highlights for you?

SK: The first thing is Fresh Paint. It got so many artists' careers kicked out or kicked around. It was almost unfair – if you were in, you were somebody, but if you were not in, it's like a gate closed on you. Nobody had done a show like that in years and years and years. Barbara Rose was the curator, I was working for Marilyn [Oshman] at the time, and in one week she brought Barbara Rose over and after seeing my work, Barbara decided that I should be in the show. At the same time, Allen Stone came into town from New York and Marilyn asked me to pick him up from the airport. We stopped by my studio on the way – and from there I was in a group show at Allen Stone Gallery in New York. And that's what was happening in Houston for those of us just out of school – graduate students and some undergraduates. I got into the Bill Graham Gallery at the same time.

My show in 2000 at the Menil is definitely a highlight. I haven't surpassed that yet. After that, the retrospective at the Ogden Museum and the show at the National Museum in Lima, Peru.

TE: From Fresh Paint to the show in Lima, what is the difference in the work?

SK: Fresh Paint included one painting of mine. It was the first painting that I finished after I returned from a trip to Peru, different than anything I had done in graduate school. That painting was constructed around Peru, spiritual relics, mummy-like figures. That morphed later with ideas about Catholicism and religion. A wonderful thing happened later in the 2006 show in Lima. I had the Indian people coming to the exhibit and the Latin American audience coming to the exhibition – both – and I hadn't noticed before that allusions relevant to both groups were in my work and their response was beautiful to experience.

The show that Barabara Rose started out with, as shows do, changed over time. The core group that Fresh Paint started with did somewhat make a statement – somewhere between Expressionism and Romanticism – that gathered around John Alexander and some other strong artists that were definitely figurative in their work – Abstract/Figurative maybe. Then it was opened up – it was just so big. The MFAH hadn't presented a show of local artists for so long – some older artists had never gotten to show there and it would have been their last chance to be included those artists were just knocking on the door. So then a bunch of artists who had worked in Houston were included in the end. But it happened – and it ended up being that the "Houston School" has a variety, is hard to pin-down, and is "all-inclusive." How do you make a statement about Fresh Paint: The Houston School? It is inclusive. And that mentality maintains – in Houston.

TE: That's the thing. Do you think that there's a detriment to that – another side of that which some artists in town experience? I, personally, feel a part of this community – but I can think of some of my peers who do not necessarily feel included – as if this "community" is not necessarily accessible to them.

SK: Well, there's some of all of it that goes into that impression of being included. Some artists prefer to keep to themselves, some artists are shy – about self-promotion maybe. Because I was just getting out of school at the time of Fresh Paint, I didn't have to worry about being shy or not shy – we were exposed. We were at Lawndale, on view constantly, so I didn't even have to think about that. Lawndale did it – and so many people would come – to collaborate – to participate. Suzy Paul was there all the time – and she wasn't a student – but she was involved.

TE: Do you think that this community has now grown too large to be "all-inclusive?"

SK: No, but I do think that somehow it's generational. The one's that did that kind of work are getting older without as much energy to spearhead these happenings, the younger artists have a different point of view, and somewhere in between there are artists who got to be almost instant successes – flashes in the pan. They'd go to New York and their work would sell for hundreds of thousands of dollars without them having had a single show before.

TE: I do detect some gaps in between the generations. What I'm hearing is that this place is inclusive and anyone can be a part of it if they want to be… but I'm also seeing that the faith in the process, the emotional investigation, and the "what's behind the paintings" isn't as easy to find or detect.


SK: It's still there – it is harder to find. I think what it is, is that – if you go to "Big City" galleries you'll see this – it all relies on photography or computer generated imagery. The computer doesn't have any emotion – you can allude to it – so much of it is just layering. You have to read the tag to know who the artist is. Like in music, with singers — it used to be that you knew who was singing after hearing the first three notes out of their mouths. The style has become… homogenized… in music now and in art – but the computer is now the point of departure – the new birthplace of a piece of art – and that draws a line. The emotion comes from, more than anything, drawing. And that's something fewer and fewer people care to do these days. There are some places where you find you can almost only use the computer – but drawing is imaginative. It goes into the back of the brain – where things are not so finite. Dorothy helped me to understand that. I'm sure Suzy knew that too.

Suzy Paul, Suzy Paul. I just think that she is a great photographer. I knew her at the end – I missed a lot of her – but I appreciated her.

About Sharon Kopriva

Sharon Kopriva is a Houston native. Her career launched in 1985 with the exhibition Fresh Paint at the Museum of Fine Arts, Houston. In the past 25 years she has exhibited her art in major cities in the United States, Mexico, Peru, India, Cuba, China, and Europe. Her most notable exhibitions include a solo show curated by the legendary Walter Hopps at The Menil Collection in 2001 and a retrospective of her work shown at the Ogden Museum of Southern Art, curated by Bradley Sumrall in 2012, entitled From Terra to Verde. Kopriva is deeply influenced by a varied set of inspirations, including her Catholic upbringing, the wonders of nature, and her continued spiritual journey.

In 2014, her work was presented in a solo exhibition at Deborah Colton Gallery entitled Illuminations; in a solo exhibition Gothic Green at the Nave Museum in Victoria, Texas; and internationally in a solo exhibition Exposición Gótica at the Museo Metropolitano de Monterrey in Monterrey, Mexico. In 2015, Kopriva was featured in one-person exhibitions in Austin and Houston, as well as numerous group shows worldwide most noteworthy being Texas! A Contemporary Art Exhibition in New Delhi, India; Works from the Permanent Collection at The Ogden Museum of Southern Art in New Orleans; and Dancing with Dystopia at Allan Stone Projects in New York City. In January 2016, she presented a new body of work at Kirk Hopper Fine Art in Dallas in conjunction with Deborah Colton Gallery based on animal and plant life; the show encompassed both painting and sculpture with the alliterative title Tubers•Tablets•Turfs•Tails. Deborah Colton Gallery has represented Sharon Kopriva since her 2011 solo exhibition Cathedrals, Phantoms, and Naked Dogs.

Her work is currently on view at the Deborah Colton Gallery's exhibition Visions, alongside works from international artists Satish Gupta, Amita Bhatt, and Susan Plum. Visions is on view through June 24th.

***

Content originally published by Theresa Escobedo, here, on 6.3.17

]]>