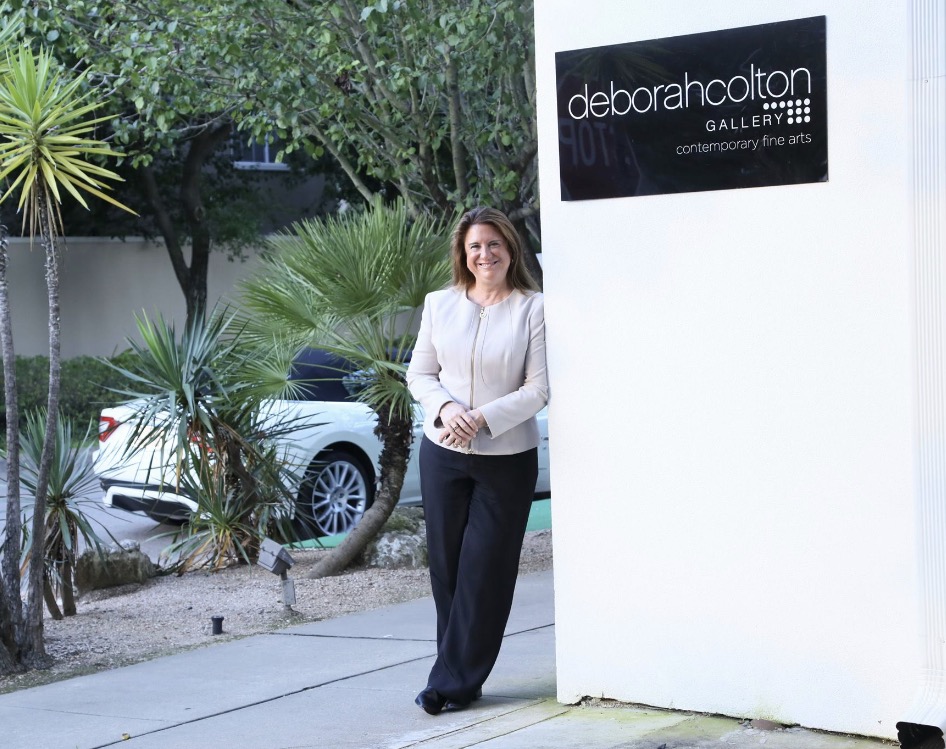 Deborah Colton is a patron of the arts in the United States and internationally. Deborah has served as a Board Member of Exit Art, New York, the Advisory Board of Artadia in New York, and as a Board Member of the McKinney Art Contemporary (MAC), Dallas.  Currently, Deborah serves on the Advisory Board of Anthology Films Archives in New York and is on the Dean's Cabinet of the University of Houston Libraries, representing the Visual and Performing Arts Special Collections.  
In Houston, in addition to supporting many Performing and Visual Art non-profits over the years by chairing their fundraisers and making donations, Deborah Colton continues her mission through various endeavors to help make Houston a destination city for the arts, nationally and internationally, and to help create a better world for all. 
As part of this mission, Deborah opened Deborah Colton Gallery in Houston shortly after she and her family moved back there from Asia in 2000. Over the years, Deborah Colton Gallery has sponsored numerous exhibitions that have featured artists from Asia, the Middle East - Arab World, Russia, Canada, Latin America and Europe, with a goal of encouraging more cross -cultural exchange and to create awareness about issues that affect all of us, through the arts.  Additionally, a strong part of the gallery's programming is to promote Houston artists and provide a forum to connect Texas, national and international artists to create active dialogue for positive change. The Gallery's FOUNDATIONS Projects focus on the importance of revering Houston's artist and art history.  Deborah is also Co-Founder and Executive Director of OUTPOST NYC DCG, the Deborah Colton Gallery virtual arts initiative that is more east coast based since she is originally from there. 
Deborah's enthusiasm about creating an awareness of Houston's art history coincides with helping the University of Houston with their Special Collections in Visual & Performing arts, by serving as one of their Dean's Cabinet members.  Some of the most noteworthy archives Deborah has gained for the Special Collection include the acclaimed Texas artist, Dorothy Hood's archives, and Texas art book author and long-time art writer for the Houston Chronicle, Patricia Covo Johnson's archives.  
Deborah helped start the momentum in the early 2000's for Houston's "First Ward Arts District" which is now one of the largest artist studio campuses in the United States. More recently, Deborah has helped start the new Houston Gallery Association, named the Houston Art Gallery Association (HAGA), and has been serving as Vice President since it began. Deborah and HAGA believe that working collectively helps the Houston art community get stronger. 
Raised in Essex Fells and Summit, New Jersey, Deborah Colton has lived and worked in Tokyo, Bangkok, New York, Miami, New Haven, Houston, and Dallas.  Deborah became an active patron of the arts after she and her family moved to Asia due to her husband's career in the mid-90's.  
Deborah Colton has received numerous national awards including various "Who's Who" acknowledgements over the years, and the "Iris Women" in 2016. Texas awards include the "YWCA Women in Leadership - Texas Women of the Arts" in 2006, plus more recently she was named one of "Houston's 50 Most Influential Women for 2020 – 2021".  Through both chairing and donating her Gallery space to worthy non-profits for more than two decades, Deborah has helped raise over 15 million dollars that strengthened art nonprofits and various charities worldwide.  
---
Published Articles by Deborah M. Colton
Art Houston Magazine, March 2008, "Art in the Desert - The United Emirates and Abu Dhabi"
Origin Magazine, September/October 2011, "Imagine Peace - Yoko Ono"
Origin Magazine, September/October 2011, "Art Can Light The World - The Vision of Ultra Violet"
Paper City Magazine, June 2015, " Venice Biennale Best: Deborah Colton's Top Ten List"
---
Feature Stories on Deborah M. Colton
ArtHouston Magazine, Spring 2022, "Deborah Colton Gallery – An Interview with Deborah Colton"
Houston Women's Magazine, February/March 2022, "Houston's 50 Most Influential Women 2020 - 2021"
University of Houston, February 2021 Newsletter, "Houston Gallerist, Deborah Colton, donates Dorothy Hood artwork"
University of Houston, January 2020 Newsletter, "A Special Thank You to Deborah M. Colton"
University of Houston Libraries, Fall 2019 Magazine
Iris Covet Magazine, September/October 2016, Colton Nominated Iris Women
Local Magazine, September 2015, (The Art Issue), Deborah Colton's Art Profile
Houston Modern Luxury, September 2014, High Art: Top Gallerist
Houston Chronicle, October 1, 2006, "IMAGINE PEACE" 
Yellow Magazine, June 2005, Tsunami Relief Gala Waves of Generosity in a Sea of Culture and Art
---
City of Houston Mayor's Proclamation
September 16, 2022, Houston City Hall, Mayor Sylvester presenting Deborah Colton Gallery Day Proclamation